Andover Business - Hughes Pharmacy
Jump to navigation
Jump to search
Hughes Pharmacy opened in 1854. The business was originally a jewelry store, located on Central Street, which had started to sell elixirs. The business moved to the West side of Main Street, and, finally, to the Barnard Building at 16 main Street. In 1967 Alan and Rosemary Hughes bought the business. In 1991 Alan died, and Rosemary Hughes ran the pharmacy with the help of a hired pharmacist. It became difficult to pay a pharmacist and also pay the increased leasing costs which were the result of a foreclosure on the Barnard Building. The pharmacy closed in March 1991 and the business was sold to CVS.
See
Hughes Pharmacy Closes. Andover Townsman 3/14/1991, p. 1, 2.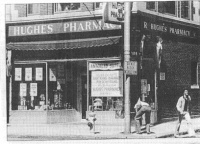 At the time of this photo, there were three drug stores in downtown Andover: Hughes Pharmacy, Hartigan's Drug Store and Simeone's Drug Store.

See
--Leslie 13:39, July 31, 2012 (EDT)

--Eleanor (talk) 16:05, 8 May 2015 (EDT)

back to Main Page